Tokyo Disneyland after the end of Corona, as seen from the perspective of a wheelchair user (December 2021)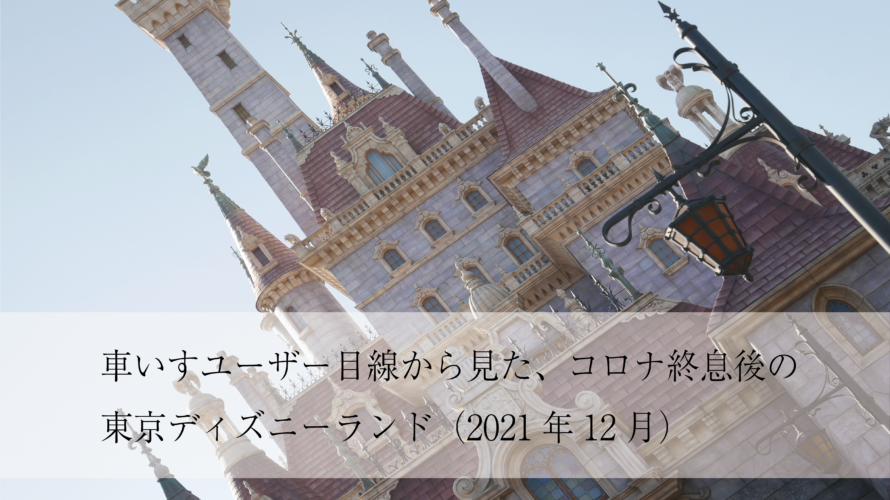 The year 2021 is almost here, and looking back, it has flown by and I've learned a lot of new things.
I'd like to end my first blog post with a story about
Disney
, my favorite place to visit✨And today is New Year's Eve. And today is New Year's Eve, what kind of New Year's Eve are you having?
Until last year, I couldn't go anywhere even if I wanted to, and I was always making a "list of places I wanted to go" and doing fantasy trips. This winter, when the situation where it was difficult to go out changed drastically, new styles of travel and ways to have fun were gradually increasing in accordance with the With Corona and After Corona era, where we can prevent infections and "avoid the dense".
Finally, the day came when I could experience one of those attractions, the new Beauty and the Beast, Baymax area at Tokyo Disneyland, opening in the winter of 2020, the Corona disaster!
I had only been to Disney before Corona, so I was very much looking forward to this day and was filled with excitement. However, the process of getting to Disney was different from the past, and there were some things that took us by surprise.
In this article, I would like to discuss what you should know beforehand if you want to go to Disney after the drastically changed Corona, with my experience of going with two wheelchair users and two friends accompanying me.
How to get tickets
Purchase in advance online from Disney's official website or Disney's official app.
[When tickets go on sale]
We were considering going in early December, so the tickets went on sale at 2:00 p.m. on Thursday, one month before the week of the park entrance date. Normally, the ticket sales for the following week often started at 2:00 p.m. every Wednesday, but this week, it happened to coincide with a national holiday, so it was on the following Thursday.
[Note on purchasing]
Since the date of the start of the sales changes day by day, it is always a good idea to check the latest information on the official Disney website, and then count backwards from the date you want to go, to see when the tickets will be available for purchase, and if access is not successful and they are sold out, keep in mind the idea of another date. If you are planning to go, please refer to the following information as of now.
[Until January 4, 2022]

We are selling the tickets for about two months ahead.

[From January 5, 2022]

Tickets for the same day two months in advance will be on sale from 14:00 every day. (If there is no same day, tickets will go on sale on the first day of the following month.)

Please refer to the URL "Park Ticket" for the sales schedule. Please refer to the "Park Tickets" page for the sales schedule and the status of tickets sold out.
I couldn't get through to the purchase page, and it was difficult to get tickets.
When accessing the official Disney website, the following message is sometimes displayed.
The Tokyo Disney Resort Official Website is currently inaccessible.

Please wait for a while and then try again.

This site is temporarily unavailable.

Please try back again later.
I kept pressing the refresh button and went back to the site every 10 minutes, but the situation never changed. I finally got a connection at around 11pm, and my friend bought tickets for all of us (4 people). (By the way, I had been trying to access the site both from the app on my phone and from the internet about 30 minutes before the start of the sale, but neither I nor my other friends could connect during the day, so I felt it would take a lot of effort to connect and proceed to the purchase screen. I felt it would take a lot of effort to connect and proceed to the purchase screen. Although some days were sold out, it was probably a miracle that there were still days left that were available. (If you want to try again, I recommend trying to get there at night when everyone else has gone to sleep.)
You can save even more money by entering the code "Corporate Program Ticket" at the purchase screen! For more information, please refer to the official Disney website below or your company's benefits program.
New "Disability Discount" and "Variable Price System" Introduced
Discounted tickets will be available for those with a disability certificate and one accompanying person!
The official Disney website states the following
・Holders of any of the following certificates

Physical Disability Certificate, Mental Disability Certificate, Rehabilitation Certificate (Ai no Techo, Green Certificate), Atomic Bomb Survivor's Health Certificate, War Injury Certificate, Disability Welfare Service Certificate

One accompanying person (Only one accompanying person may purchase tickets for each person with a certificate).
As a Disney enthusiast, I am very grateful for the introduction of the "One-Day Passport Disability Discount," and it seems that every time a new attraction is introduced, I will be driven by the desire to go out and play. In case you're wondering, the prices are based on "Dynamic Pricing," a variable pricing system based on the expected level of crowding and date.
Ticket prices

Adult ¥6,500 / ¥6,800 / ¥7,100 / ¥7,400

Middle child ¥5,300 / ¥5,600 / ¥5,900 / ¥6,200

Child ¥3,800 / ¥4,000 / ¥4,200 / ¥4,400
If you can make it on a weekday, I suggest you avoid the busy season and pick a time when the deals are better!
The official Disney app (Tokyo Disney Resort App) is a must!
❶Use the general map to get an idea.
❷The group function is super convenient!
❸You can also make reservations for lotteries and restaurants in advance!
↑Be sure to install the official app!
It is also convenient to register as a member, log in, and register your credit card in advance. Don't forget to make reservations in advance, because sometimes the wait for restaurants is longer than for rides! However, last minute reservations are almost always full, so it is best to make your restaurant reservations as soon as you get your tickets.
How to get the "Standby Pass"?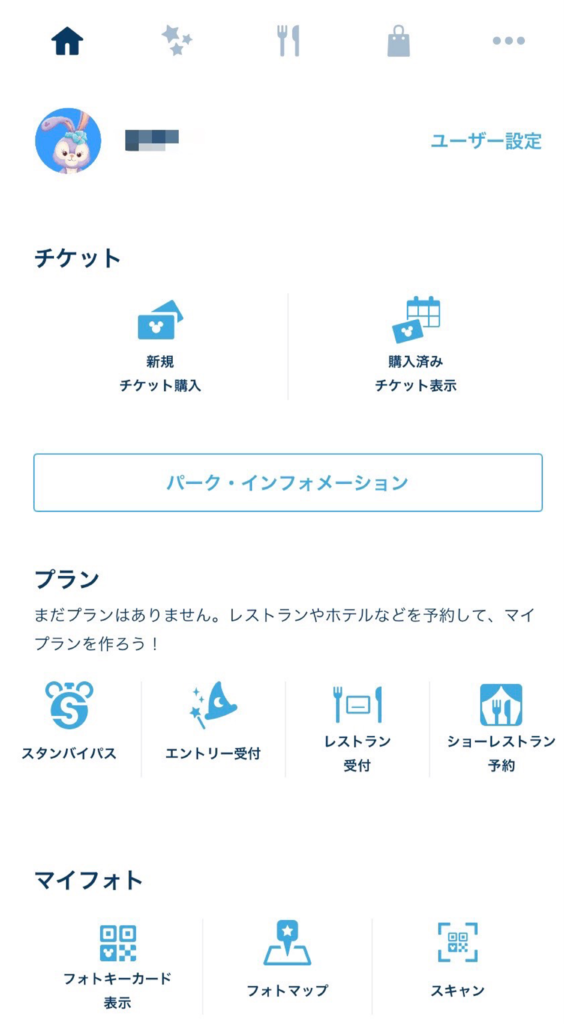 When you enter the park on the day of admission, you can press the button to get a Standby Pass (marked with an S). Please note that this does not refer to "Fast Passes" (priority guide tickets that shorten the waiting time for some attractions), which are currently not being issued!
Popular attractions are first-come, first-served! Let's get the right to stand in line first!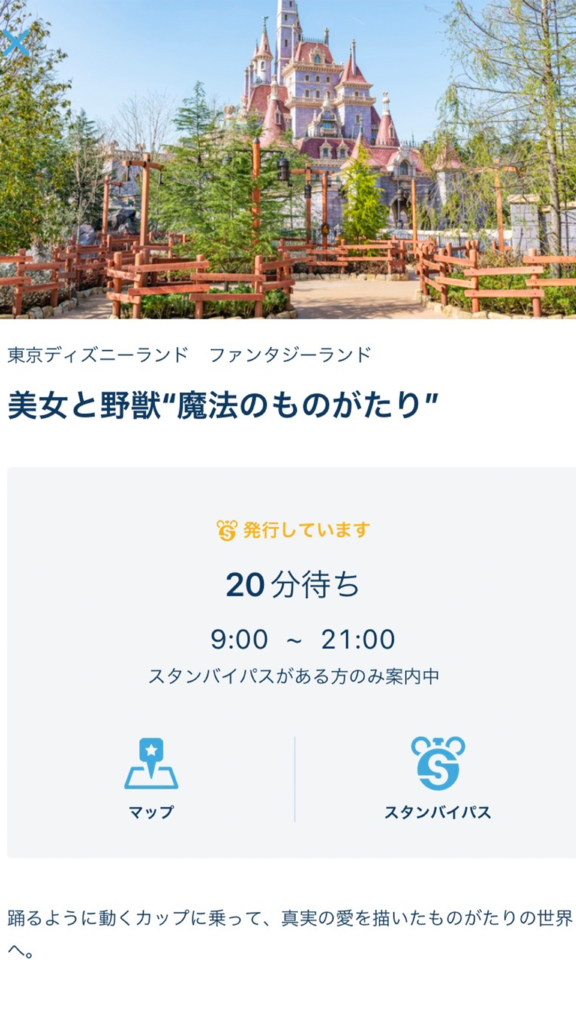 For attractions in the new areas that have recently been built, such as Beauty and the Beast and Baymax, you cannot even get in line without a Standby Pass. The Standby Pass is a great way to get the right to stand in line and reserve your time in advance. Since the number is limited, the slots will be filled in the order you arrive. This means that if you are not in the park early enough to get a Standby Pass, you will not even be able to ride. I heard that the popular attraction Beauty and the Beast sells out before 10:00 a.m., so it might be a good idea to do some prep work a week in advance to find out what time it went off sale, as well as the flow and time. If you want to ride Baymax as well, you'll have to aim early in the morning. It's a good idea to plan carefully.
Arriving at the park at least an hour before is a good idea at this point.
The official website says that the park opens at 9:00 a.m.
But on the day of our visit, we were able to enter the park at 8:30, 30 minutes ahead of schedule!
Actually, I found out about this rumor on Twitter, and when I checked the Internet carefully, I got important information that the standby passes were running out earlier and earlier by the day. So we decided to arrive at Maihama Station an hour early to meet up with them, and although we arrived in front of the entrance around 7:50am, there were still more than 10 people in front of us in 10 vertical x 10 horizontal rows? Ten minutes later, I looked behind me and saw that the entrance was overflowing with people and there was not even room to sit down. In a way, I thought it was a benefit of coming so early that the waiting time was not too long and I was able to make good use of the waiting time as a time to plan my strategy and to have the peace of mind that I would surely get on the train.
We were able to get reservations for Beauty and the Beast at 9:55am and Baymax at 1:40pm.
By the way, you have to finish one standby pass before you can get the next one. Therefore, if you want to ride Baymax as well, it depends on how quickly you can get a standby pass for Beauty and the Beast. If you want to ride Baymax as well, it depends on how fast you can get a standby pass for Beauty and the Beast. Waiting for a cancellation is a possibility, but if you want to be sure, it would be better to wait early in the morning to get a standby pass.
Until you actually enter the park
Do not neglect to do your research beforehand.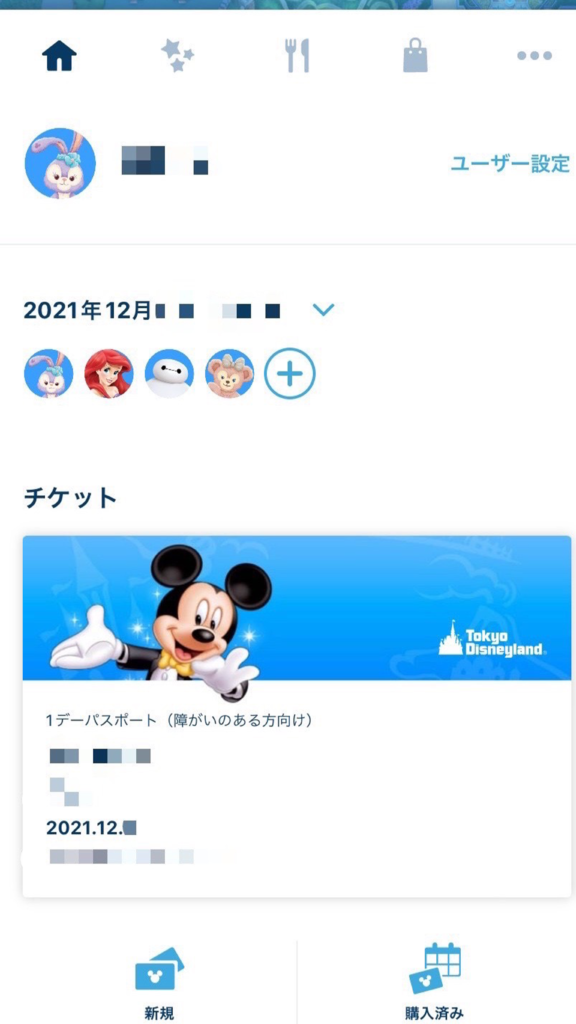 Have a meeting with the people you're going with beforehand! Discuss meeting times, reservations for attractions, shows, restaurants, etc., tell each other your priorities and where you want to go, etc., so that you don't make haphazard decisions or miss opportunities on the day of your visit! In particular, as in the case of purchasing, advance research is key.
Luggage inspections, like those at airports, have been introduced!
Bags, clothes, etc. will go through a metal detector-like gate, or if you are in a wheelchair, you will be held up with a stick-like object because it will catch you. Body temperature is taken, alcohol is disinfected, and anti-corona measures are still in place, giving the impression that the time it takes for each person to enter has increased.
Keep your belongings to a minimum.
However, a
smartphone is a necessity
. A
mobile battery
is also a good idea.
As for money, it is easy to avoid carrying cash by actively using mobile payments
and credit cards. If you have to, use a coin locker near the station.
Don't forget your disability certificate.
A mask during the corona season
Must-have items…spare batteries for wheelchairs, battery chargers, leisure sheets, plastic bottles, rain gear, handkerchiefs, tissues, etc.
If it's winter, you might want to bring…pocket warmers, gloves, mufflers, knee warmers
If you are going to be traveling in a wheelchair for the night, you may want to bring extra batteries. If you're staying overnight, you'll also need to bring a power outlet to charge your battery!
Considerations for people with disabilities
What is DAS (Disability Access Service)?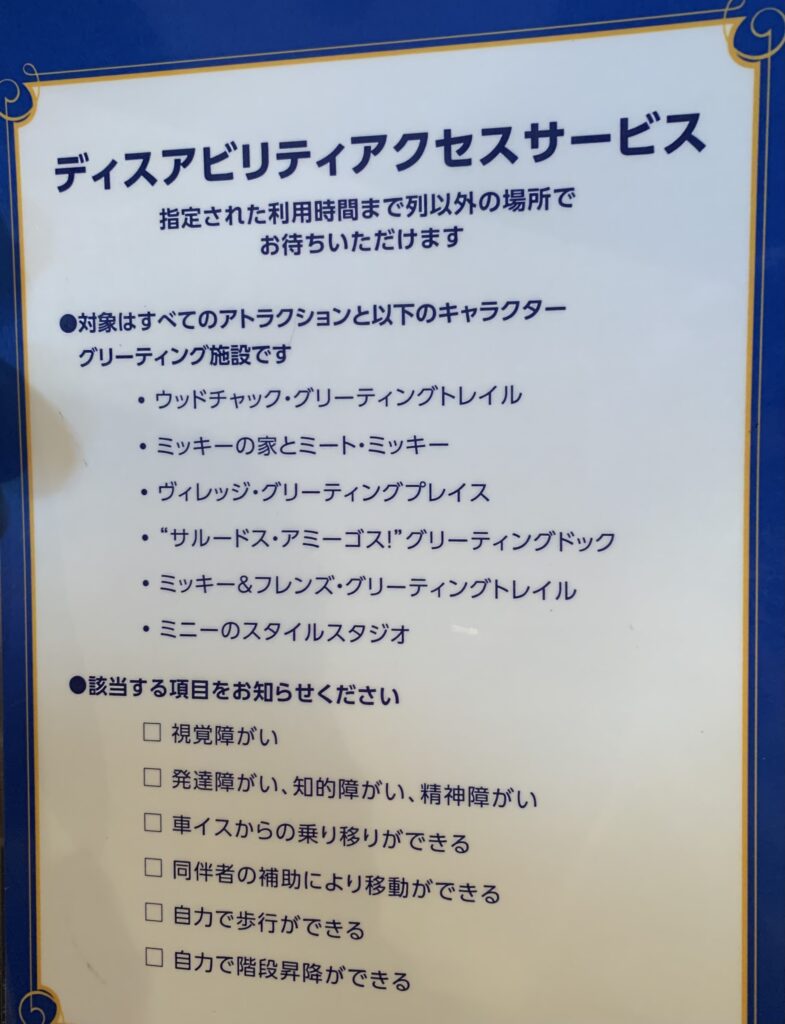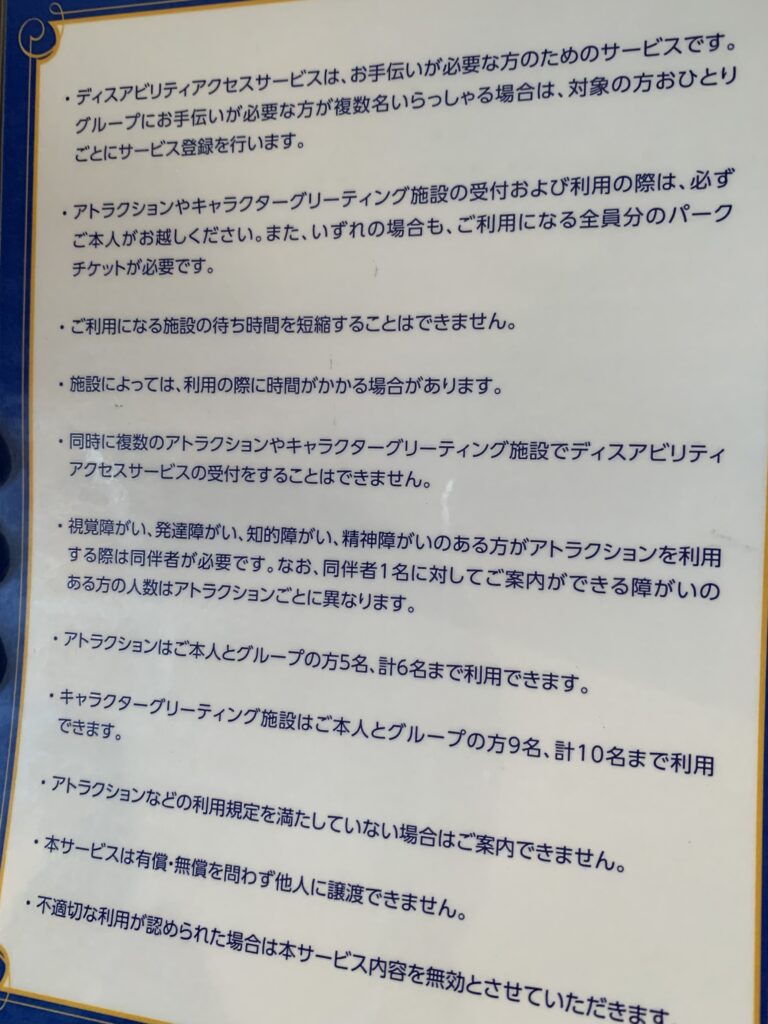 Disability Access Service is commonly referred to as DAS. I was surprised to see that the name has changed from the previous one (Guest Assistance Card) and there is also an abbreviation. It used to be a small vertical card made of blue or green paper with handwritten notes on it, but now it was electronic. I'm glad I don't have to carry around those cards anymore, because I won't lose them! Apparently, when making a reservation or checking in before boarding, all you have to do is hold up the QR code on your ticket for the number of people you're traveling with! This is how the official website describes the target audience and accompanying persons
Unable to stand in line

Holders of the Physical Disability Certificate, Mental Disability Certificate, Rehabilitation Certificate (Ai no Techo, Green Certificate), A-bomb Survivor's Health Certificate, War Injury Certificate, or Disability Welfare Service Beneficiary Certificate
Visitors with visual, developmental, intellectual, or mental disabilities, as well as visitors with physical disabilities who require the assistance of a companion, must be accompanied by an able-bodied person. For more information, please refer to the "List of Attractions/Entertainment Facilities/Character Greeting Facilities" in the Tokyo Disney Resort Information Book.
Receive a DAS at Main Street House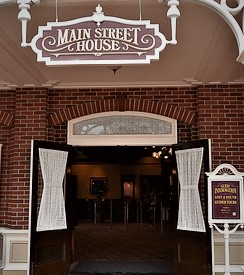 Once you enter the park, you will find the Main Street House on the far left side of Main Street where you can get a DAS.
Don't forget to bring your disability certificate!
During the registration process, we will take your photo to be used for identification when using the service.The Disability Access Service does not reduce wait times.
Depending on the nature of your assistance and the nature of the attraction, your wait may be longer than the normal queue time.
You will not be able to use the attraction if you do not meet the regulations for use of the attraction.
A maximum of 6 people (you and 5 other people in your group) may use the attraction. Character greeting facilities can be used by you and up to 9 other people in your group, for a total of 10 people. If there is a large number of people in your group, we may ask some of your group members to stand in line and join you at the boarding area.
[Official] Services to ease the burden at the park
How to ride a ride using DAS
Tell the Cast Member near the attraction you want to ride that you want to use DAS, and return by the time you are told.
However, these days the waiting time is often very short, and in the case of a 10-minute wait, you could only take a bathroom break or wander around outside and take pictures. In the past, there was time to go eat or relax during that time.
If you would like to use this service, please notify a Cast Member at an eligible facility that you would like to use the Disability Access Service and register. Registration for the Disability Access Service is available at the applicable facility, Main Street House at Tokyo Disneyland, and Guest Relations at Tokyo DisneySea. To register for Disability Access Services, please present your Physical Disability Certificate, Mental Disability Certificate, Rehabilitation Certificate (Ai no Techo, Green Certificate), A-bomb Survivor's Health Certificate, War Injury Certificate, or Disability Welfare Service Certificate, and Park tickets for all members of your group.

Please present the park ticket used for registration to a Cast Member at the applicable facility. If you are unable to wait in line for a long period of time, all members of your group may wait outside the queue for the duration of the wait. (You may not be able to see shows or performances in the middle of the line.
【Official】Information for wheelchair users
【Official】Disabled Access – Tokyo Disney Resort
Let's go to the new attraction!
Beauty and the Beast "A Magical Tale"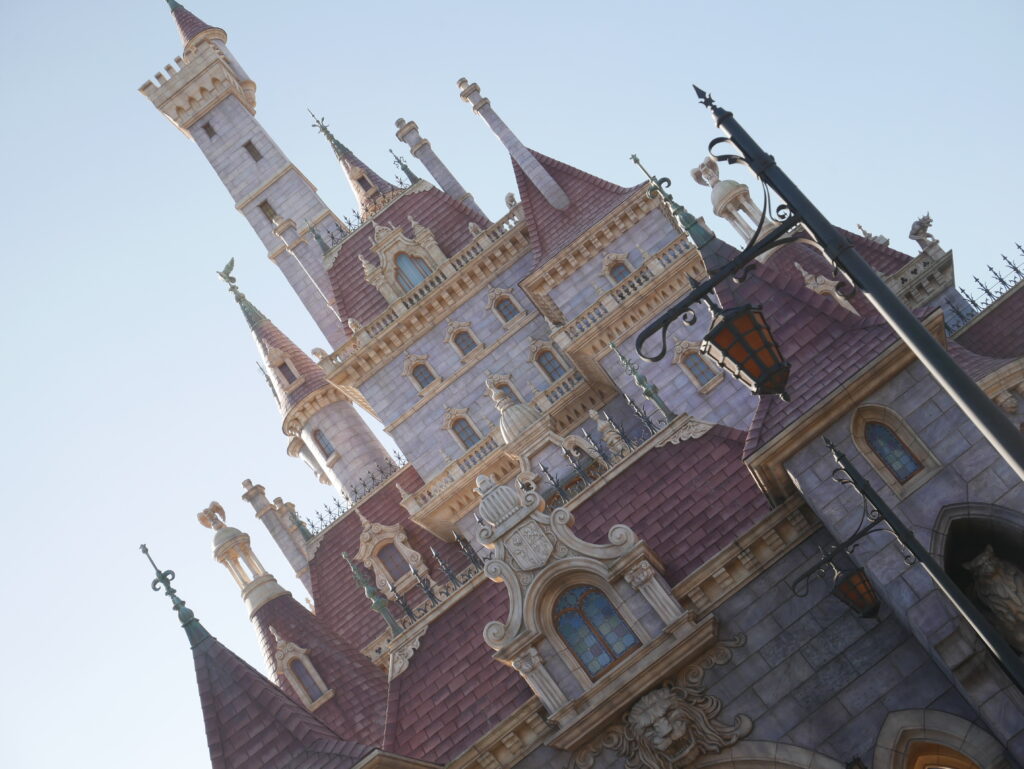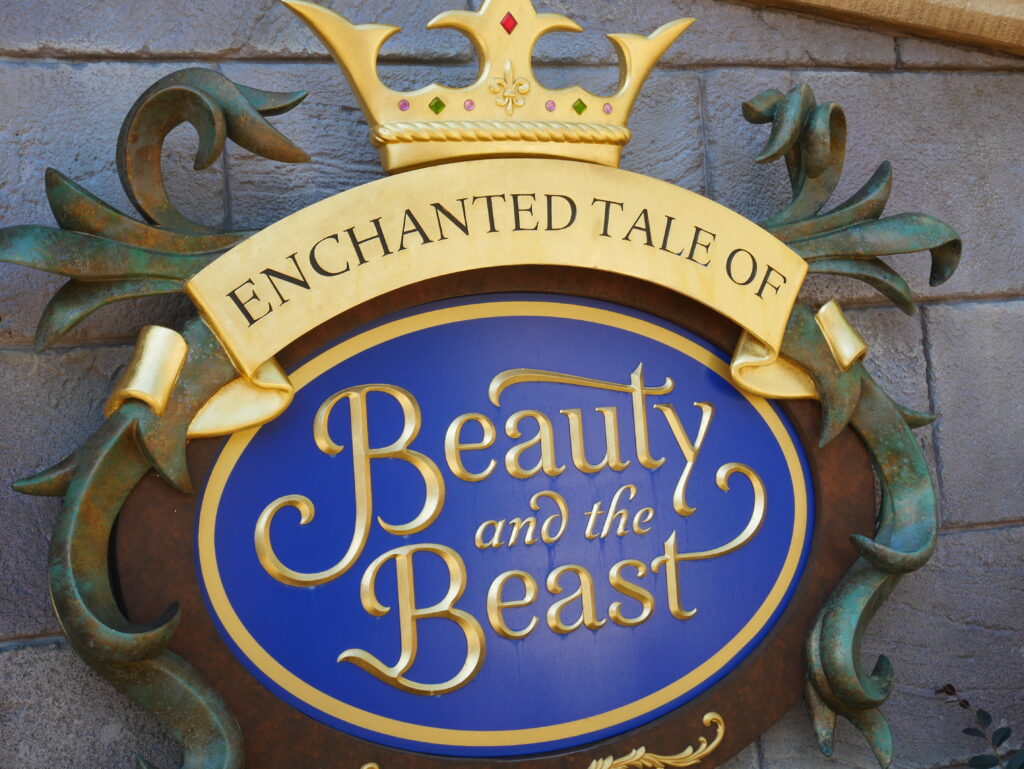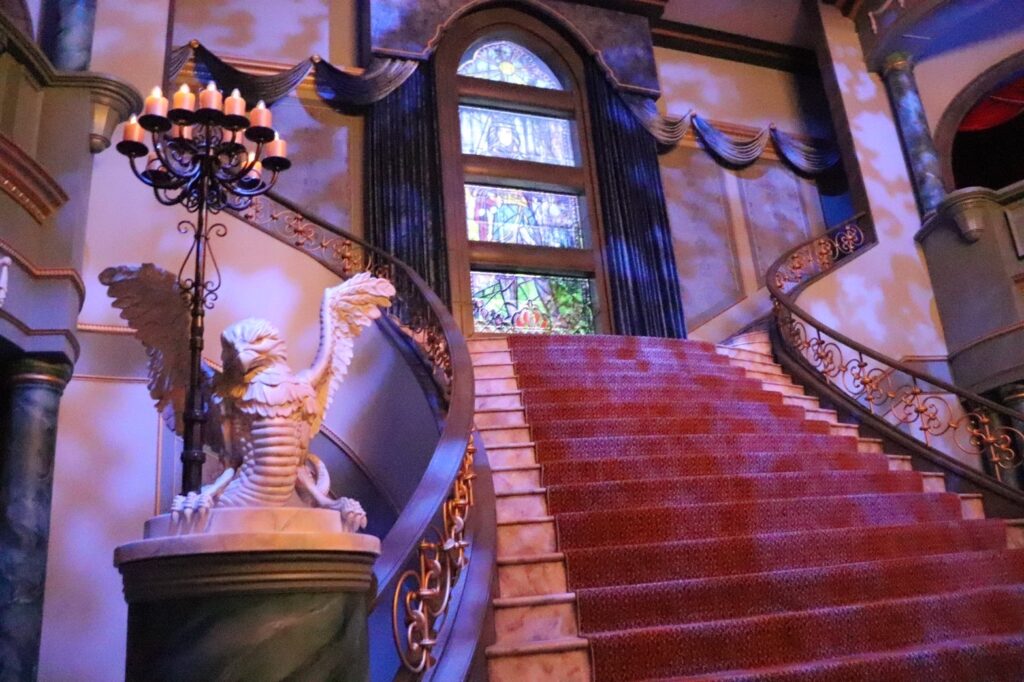 It was a storm of excitement that exceeded my imagination. The ride is well and faithfully recreated from the movie, and you can have a wonderful time swaying on the coaster that gives you an almost real world feeling. The climax at the end is breathtaking! The only problem is that there is a transparent partition between the coasters, and since I'm short, it's hard to see what's in front of me, so I really wanted to ride in the front row… I'll try to get a better view next time… Full video
The whole thing can be seen here 📸.
↓↓Click to watch the video
Beauty and the Beast "A Magical Tale" Coaster Dance Melody Scene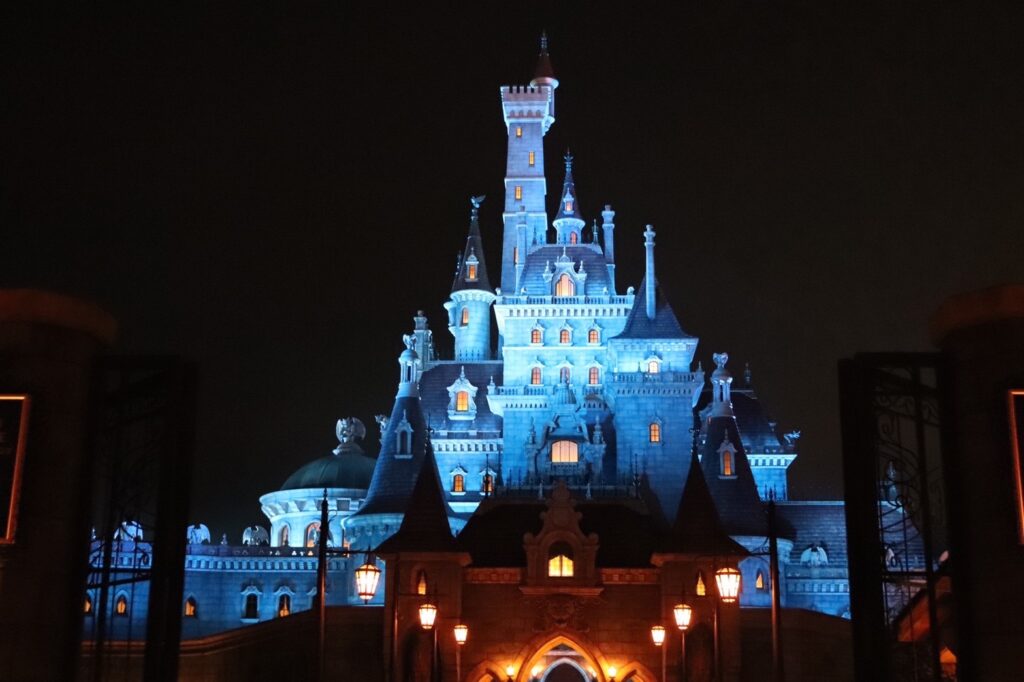 The lights at night are a little different. It's also quite fantastic.
In contrast to the pink color, it glowed blue and looked a little scary, like a castle with fierce beasts.
Baymax's Happy Ride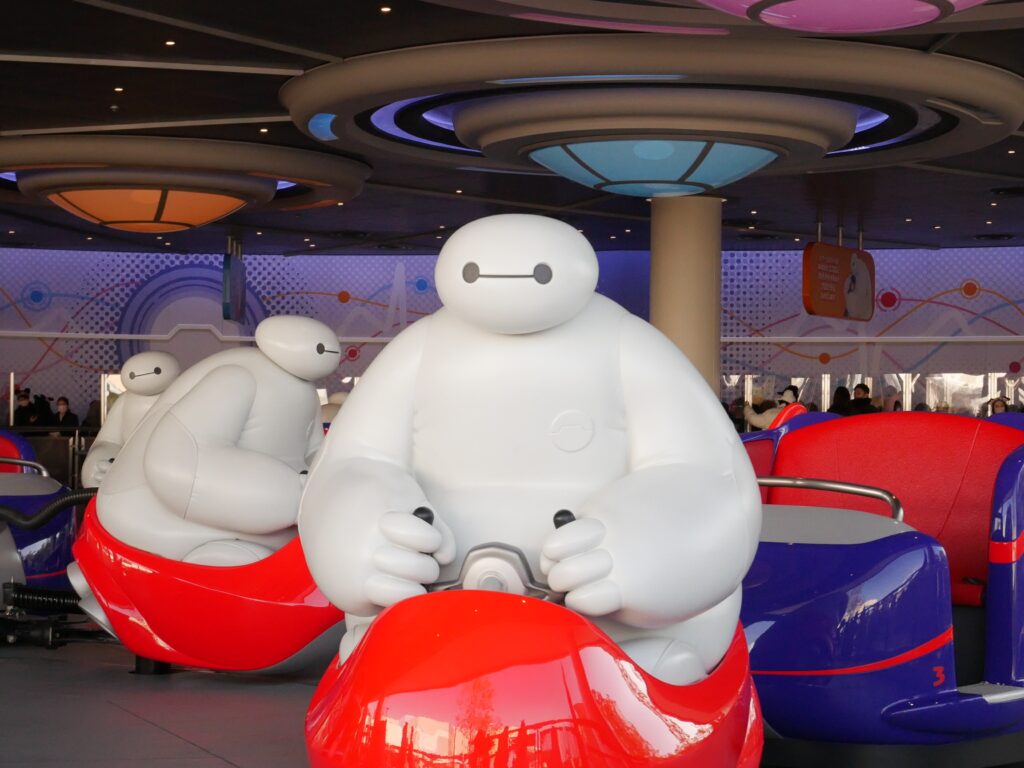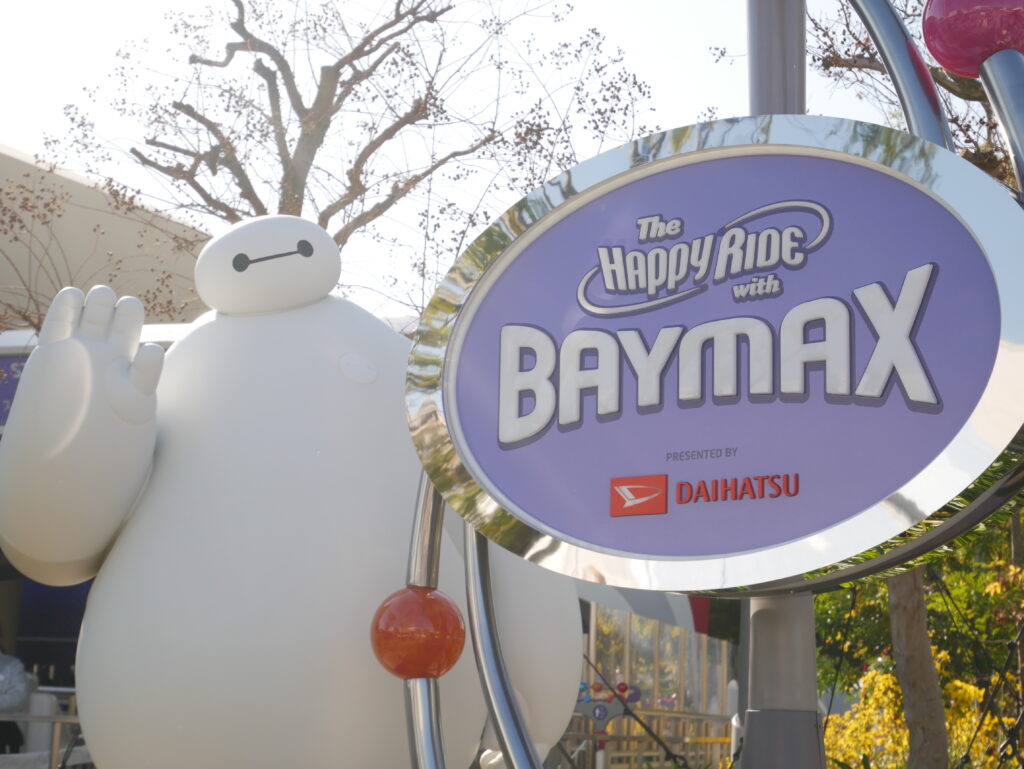 This was the most fun attraction that gave me the maximum level of Happiness!
The melody of Baymax's ride was so pleasant to listen to that it made you feel like you were in a groove.
What else did we enjoy in the park?
Food and other things
At Big Pop (Disney's first popcorn store), I was able to buy a popcorn bucket from the Disney movie "Beauty and the Beast" 🏰I chose the cookie cream 🍪 flavor! It was very tasty. There was a light on the bottom of the bucket, so I was desperate to finish it. It's so romantic and handsome and pretty when you make it glow in the dark🌹.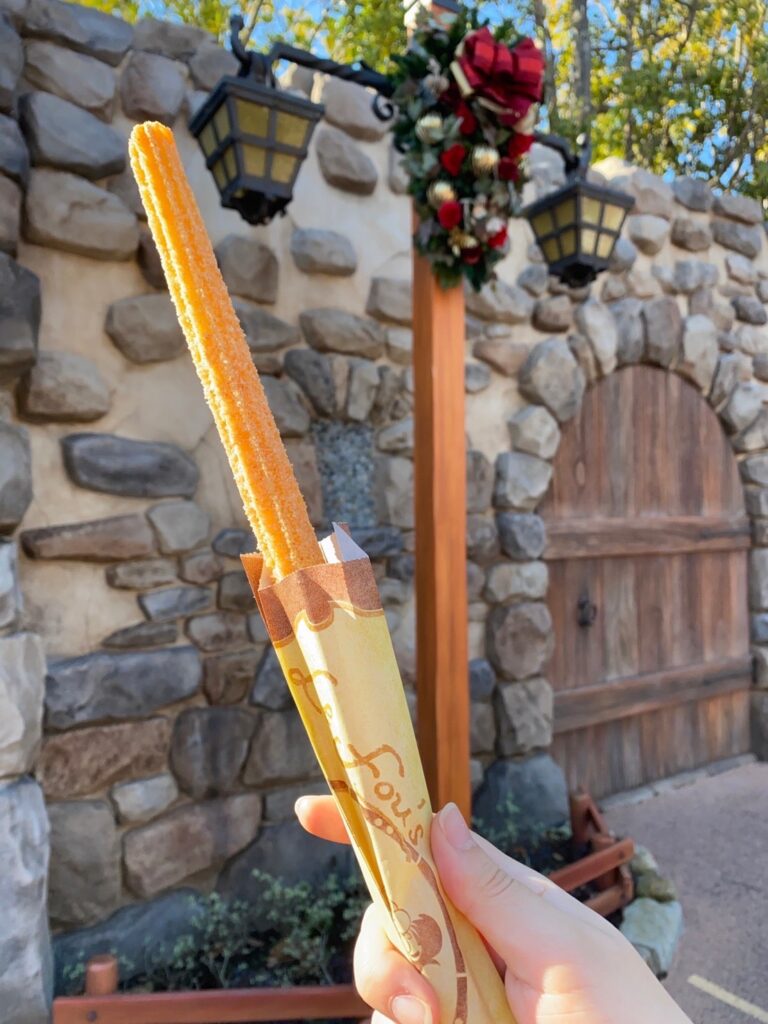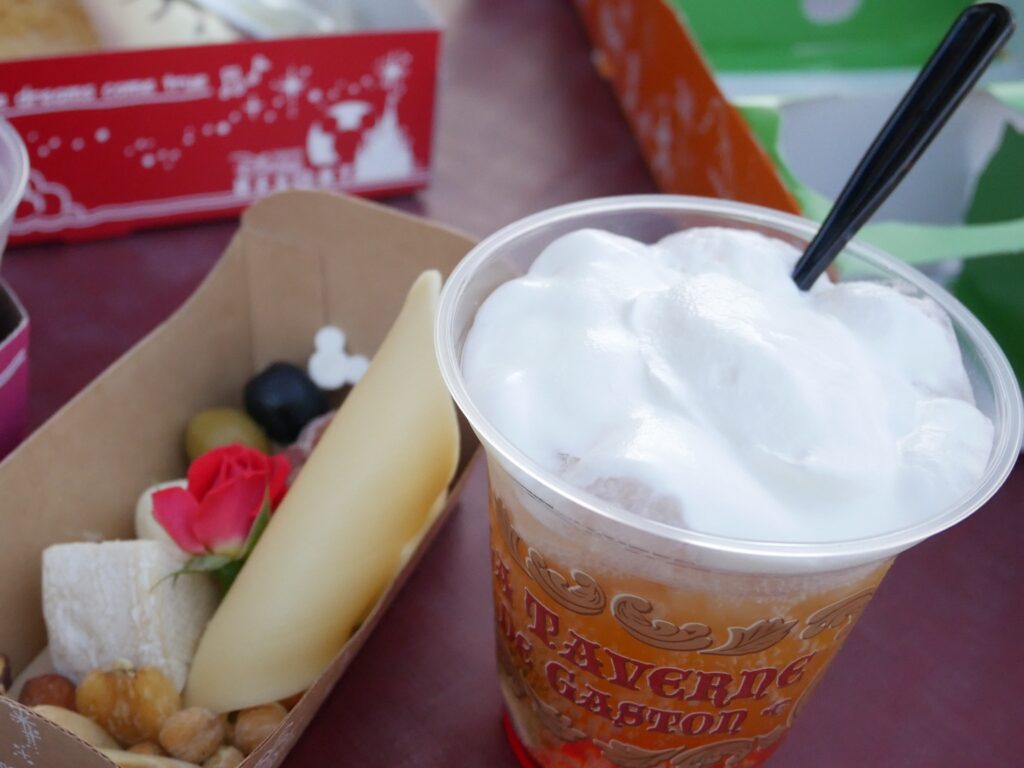 Takeout at Gaston's Restaurant🍴
I had a delicious Le Fou's Churros (Apple Caramel), Berry Cheers and a box of hors d'oeuvres!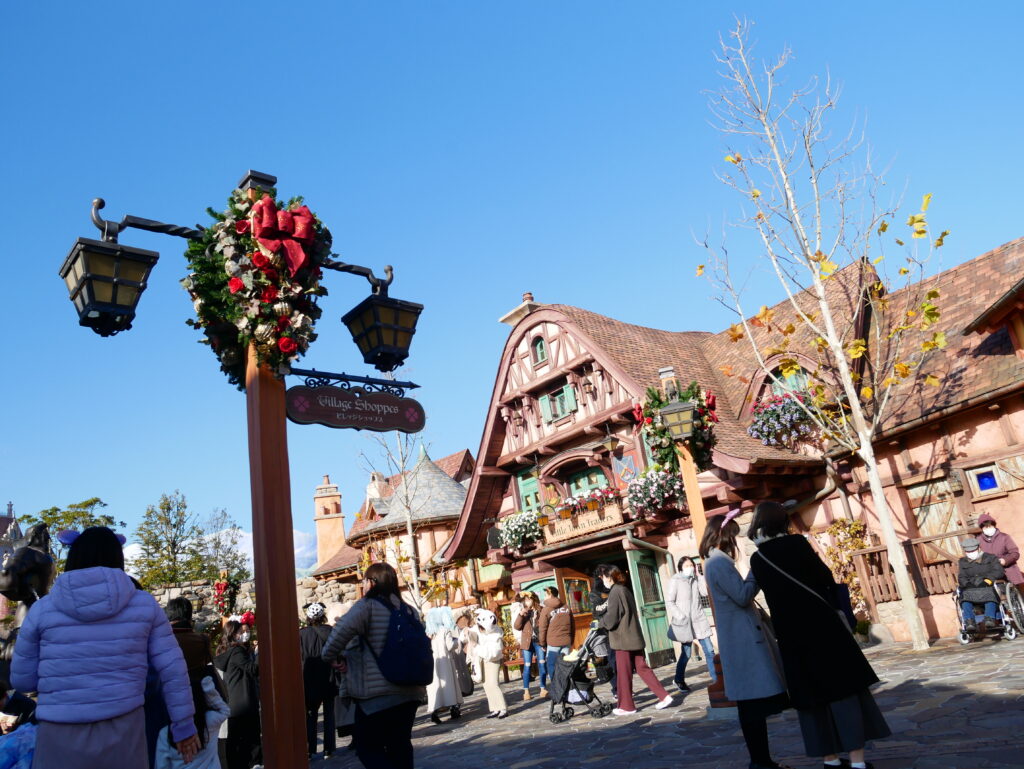 Fantasyland, the town of Belle, is so exotic just walking around…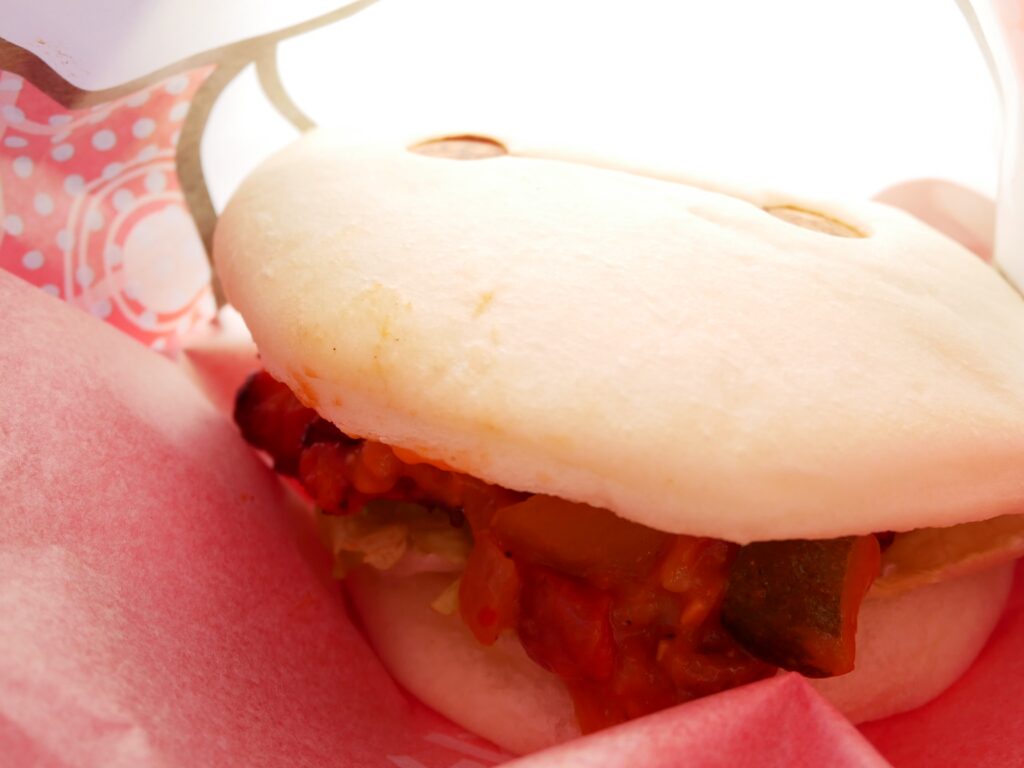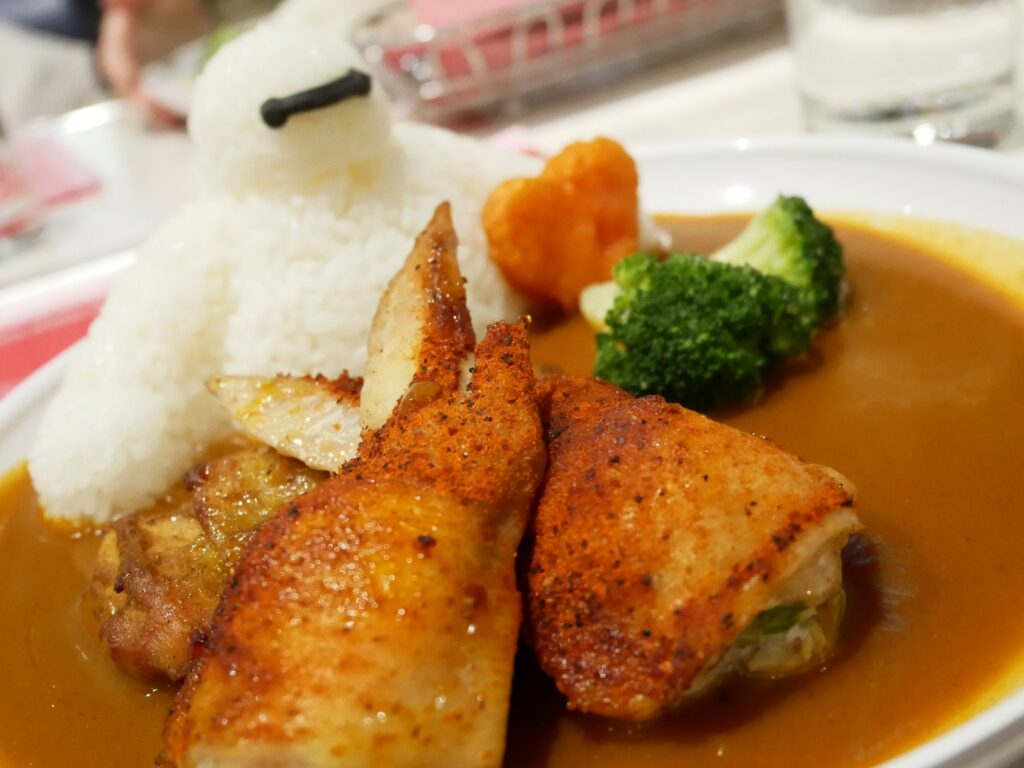 We even had some Baymax food (bread and curry)! It was relatively empty at night, especially during the times when it was covered with shows.
The restaurants were more crowded than the attractions, and the wait times were longer.
The restaurants were more crowded than the attractions, and the wait times were longer.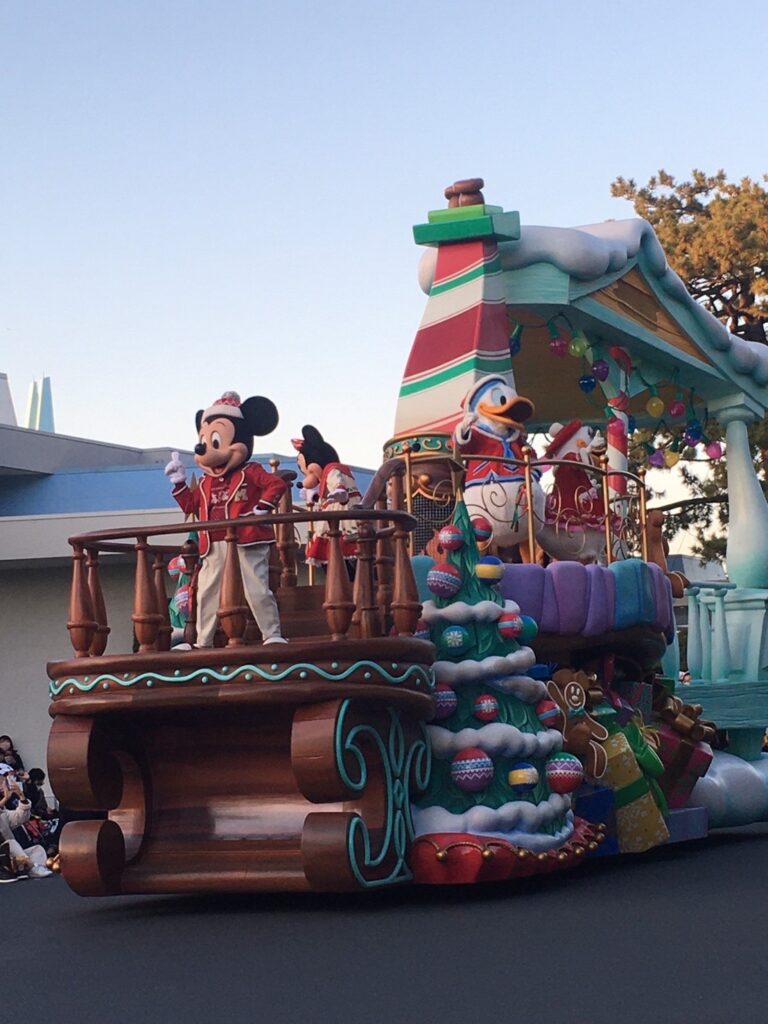 And the Christmas parade 🎄.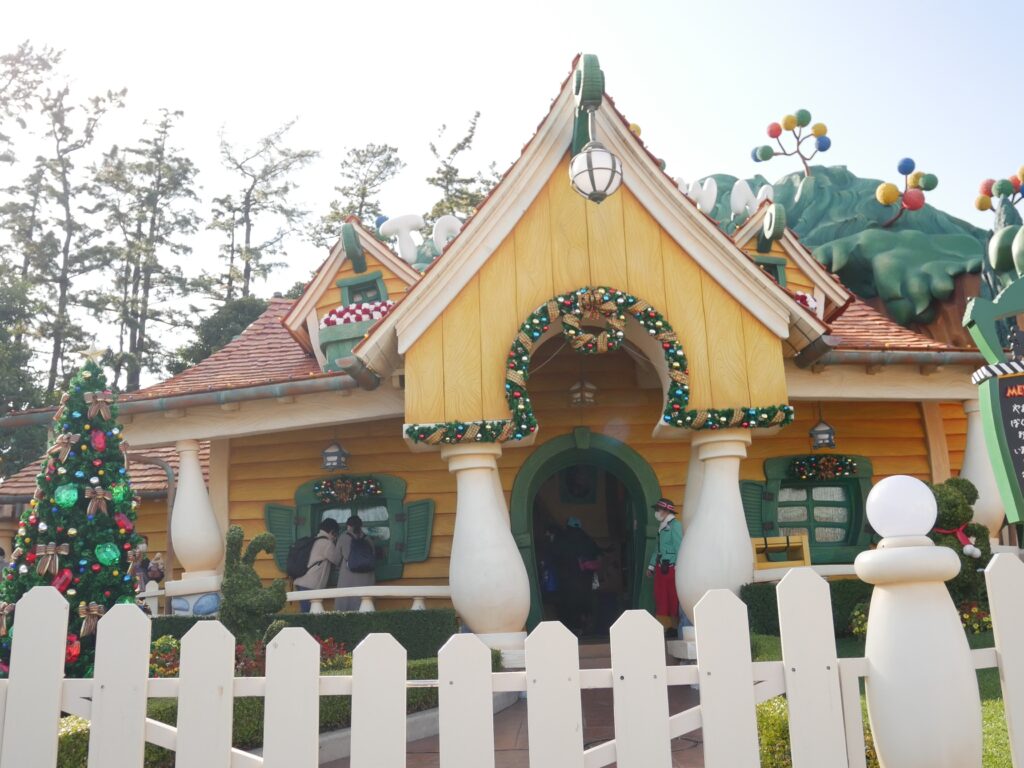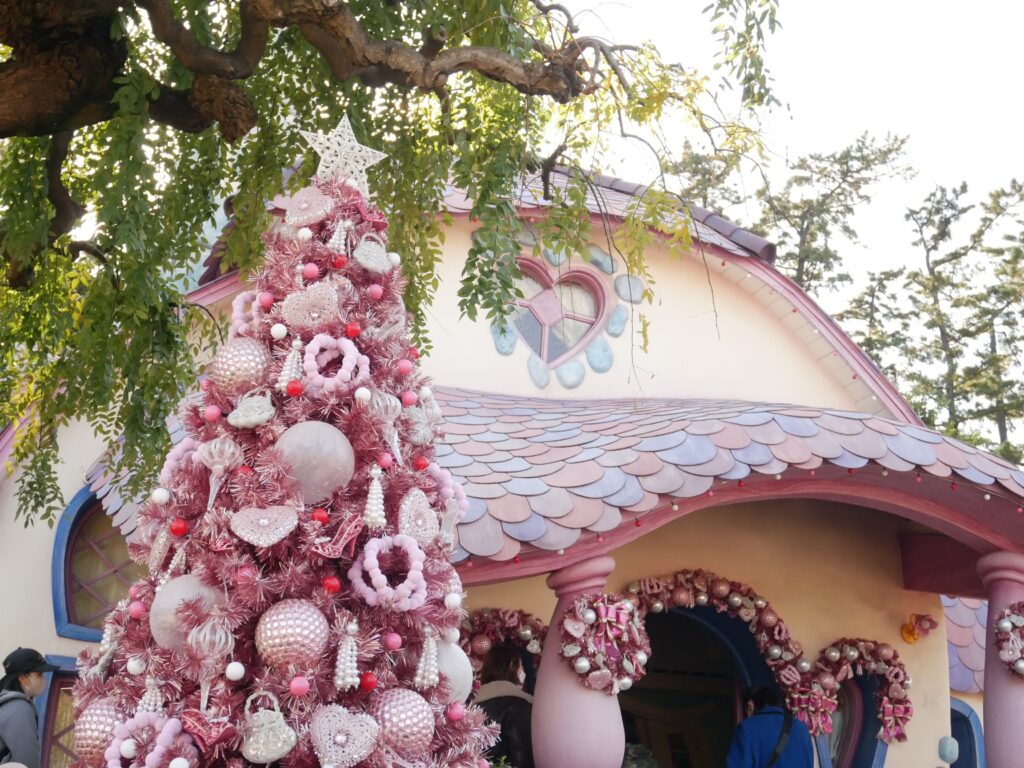 Mickey and Minnie's house (Christmas version)
We were able to meet Mickey, although we had to maintain a social distance from him!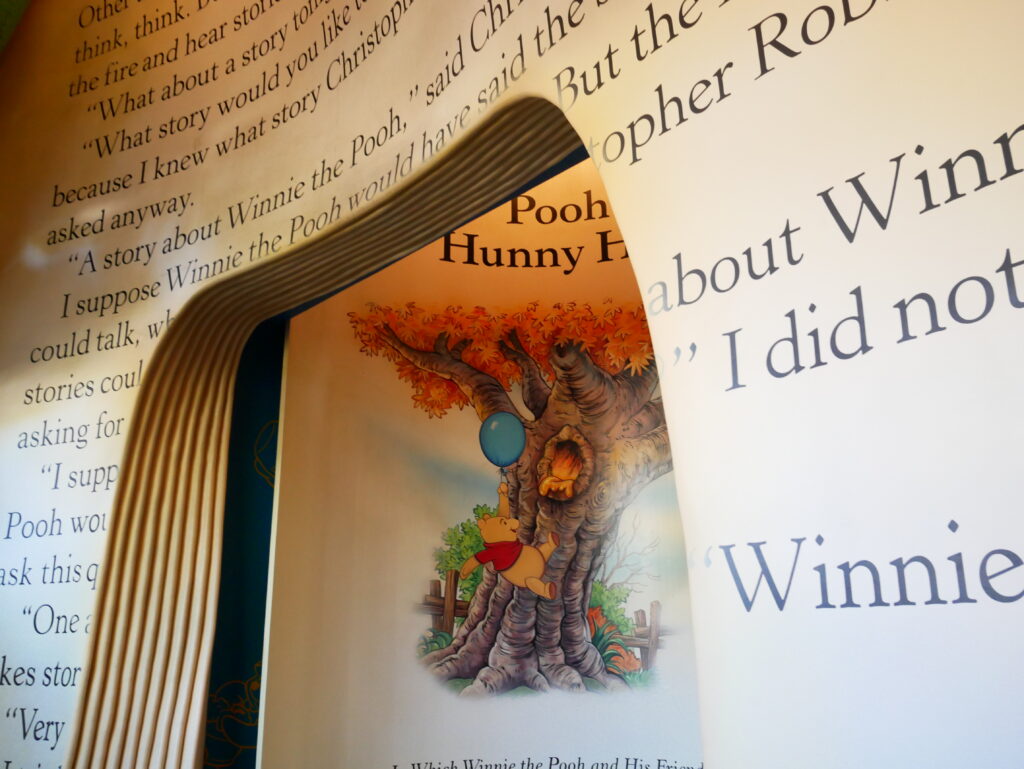 We got to ride a lot of the classic rides with almost no wait time!
Pooh's Honey Hunt, It's a Small World, Space Mountain, Big Thunder Mountain, Horned Mansion, Flying Dumbo, etc…. In each case, we took the wheelchair route to the nearest ride and then got off and transferred to the ride.
However, Space Mountain was the only ride where we were told that two wheelchairs could not be parked at the same time, so one of us parked a little closer to the stroller parking area (where they could shorten the walking distance as much as possible) and walked from there to the ride, taking a break along the way and holding hands little by little. We were still tired, but we managed to get there.
Last, we looked around for souvenirs.
The sweets were sold out, and I couldn't find any Christmas products…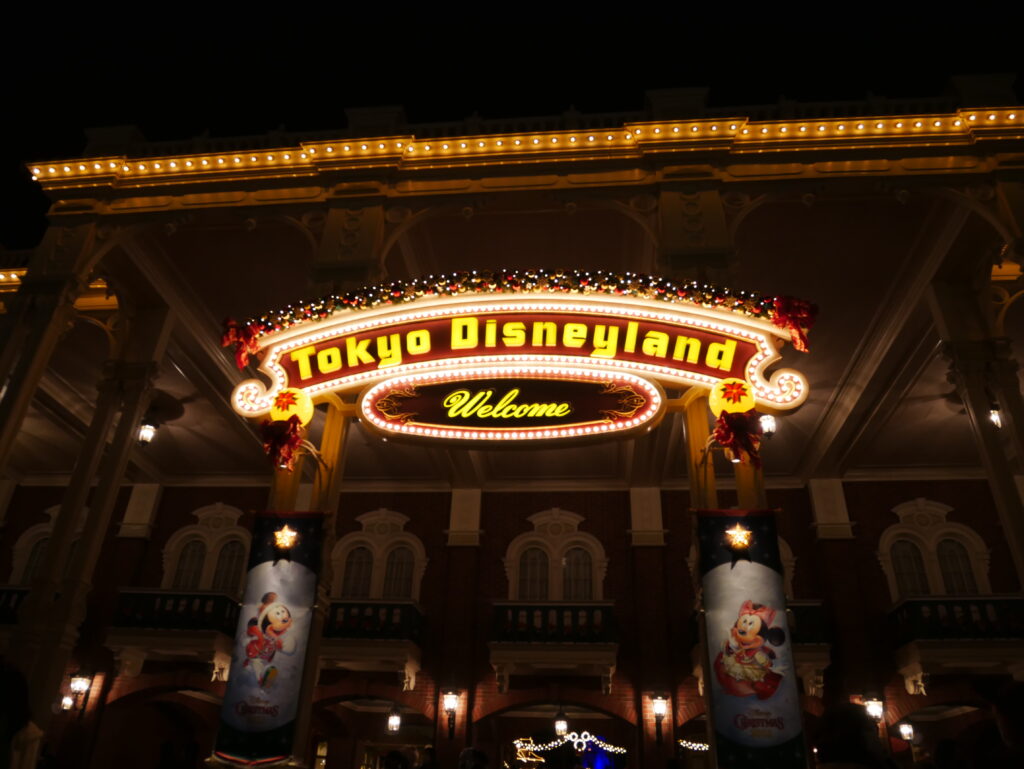 When I went to the World Bazaar to buy a last souvenir on my way home after a long day of playing, I was shocked to find almost nothing in the way of Christmas products or sweets. This was totally different from the situation I had been in before, and I had never even queued up to buy sweets before. When I got home that day, I was able to purchase them online through the official Disney app. To my surprise, the next day, both the local and online shopping started to restrict the number of pieces and release. Even the online purchases became scarce, making it increasingly difficult to purchase. I wish they would have thought carefully about the balance between supply and demand, and stocked, produced, and sold in anticipation💦.
Extra (Disneyland Paris catsuit)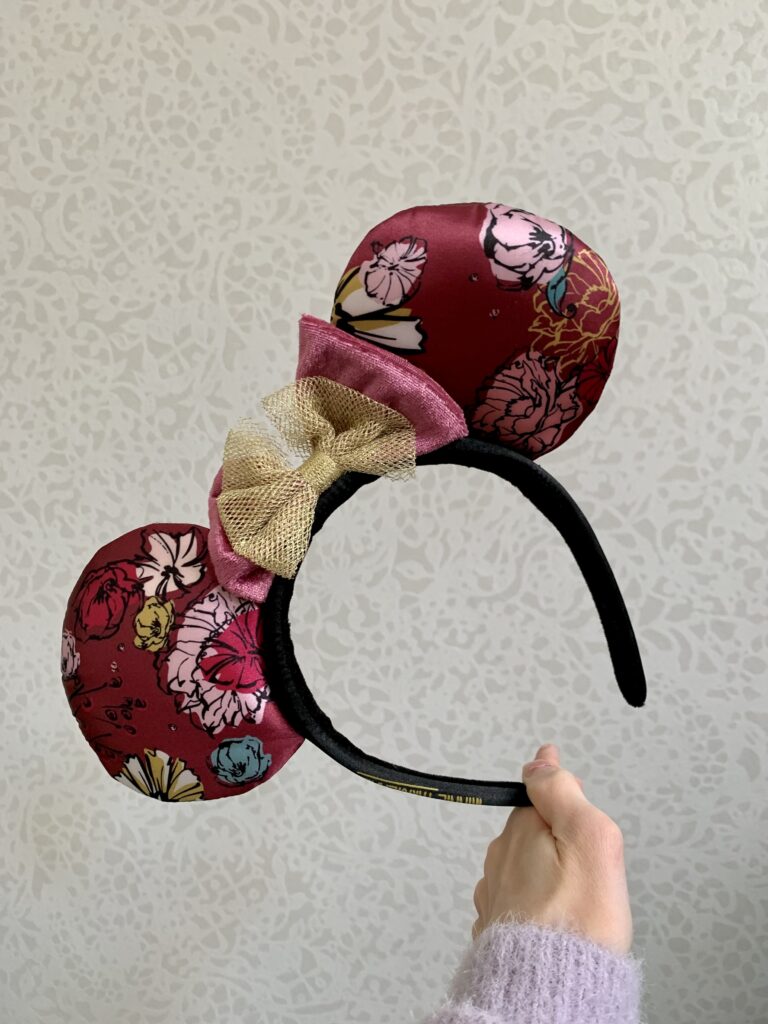 Disneyland Paris Minnie Mouse Boheme Ears Headband Disney Parisian Floral Adults🇫🇷(Eiffel Tower)
I actually wore a headband that I bought when I went to Disneyland Paris in France that day! A lot of people told me it was a rare pattern and they'd never seen anything like it! A little bit of premium feeling✿
As expected from the "City of Arts", Paris ♡
I hope I can go back there someday…♥
P.S. I wrote my wish on a piece of paper during the 2019 Tanabata and Yukata Disney Festival that I'd like to conquer all of Disney overseas, and I hope I'll have the chance to make that wish come true someday!
Thank you very much for reading to the end.
I look forward to working with you again in 2022.
I wish you a very happy new year♪
Thank you 2021 & Happy New Year 2022
Previous article

Next Article