Sixth wave arrives (Omicron Corp.)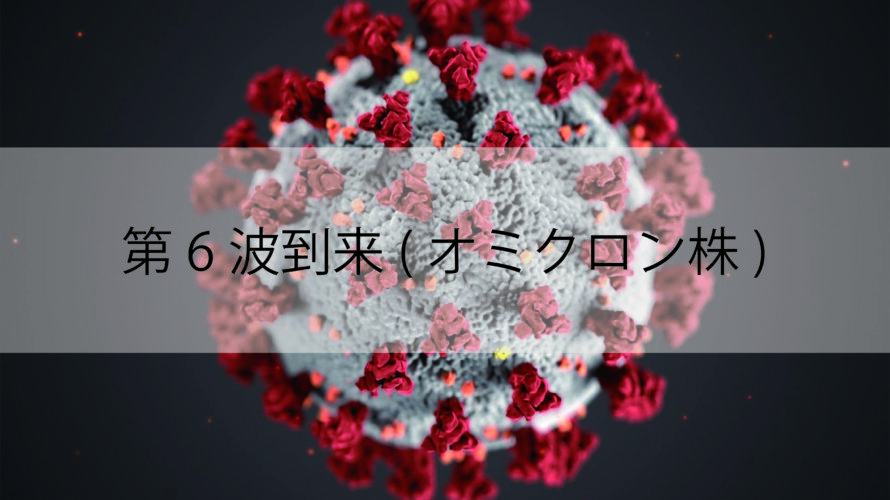 A belated Happy New Year to you all.
The year 2022 has already begun. How are you all doing?
It has suddenly become cold recently and I am spending a lot of time at home.
Now, since 2022, the new coronavirus mutant strains have rapidly expanded from the delta strain to the omicron strain in Japan.
Furthermore, there is news that "deltacrons," a combination of delta and omicron strains, have been found in Cyprus.
What is the cause of this epidemic?
I will discuss the actual situation, the challenges, and my own views.
What is the Omicron strain…?
Infectivity and vaccination rates
Infectivity and vaccination rate
A new coronavirus variant, the Omicron strain
In Japan, many people are vaccinated with two doses of coronavirus vaccine, and it is thought that the number of people who become seriously ill is low.
⇒It's not just a cold!
Even if you have been vaccinated, you should not feel relieved.
If the number of infected people increases, the number of people who need to be hospitalized or who become seriously ill will increase proportionally.
What are the symptoms?
In the order of most common symptoms
Cough, runny nose, headache, fever > difficulty breathing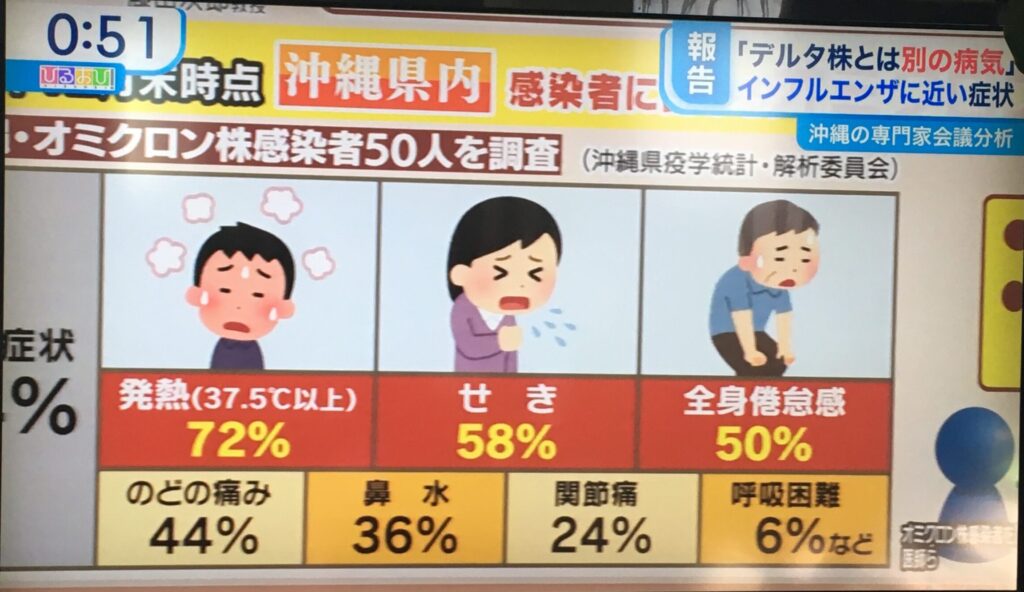 Omicron strains Symptoms similar to influenza
Symptoms similar to the flu.
It is said to be a different disease than the delta strain.
Fortunately, it is less severe than the delta strain because it causes less breathing difficulties than the delta strain.
What are the symptoms of the Omicron strain?
Young disabled and elderly people are also more likely to be severely affected.
Since February 2020, when there was a corona epidemic, people with disabilities have been experiencing the same sense of difficulty breathing and becoming severely ill with the disease as the elderly.
They could not breathe every day and had a hard time staying alive.
In addition, even when corona was not prevalent, there were times when it was hard to commute long distances, etc.
Therefore, in the future, I would like to see Japanese law actively encourage teleworking and telecommuting environments for people with disabilities who have illnesses that make it difficult for them to commute, whether during an infectious disease epidemic or not, or create a system to fine them if they are unable to do so.
Even if it's a position that requires you to go to work.
Even if you have a job that requires you to go to work, you can switch to a job that allows you to work from home if you are creative.
Why is the Omicron strain so prevalent in Japan?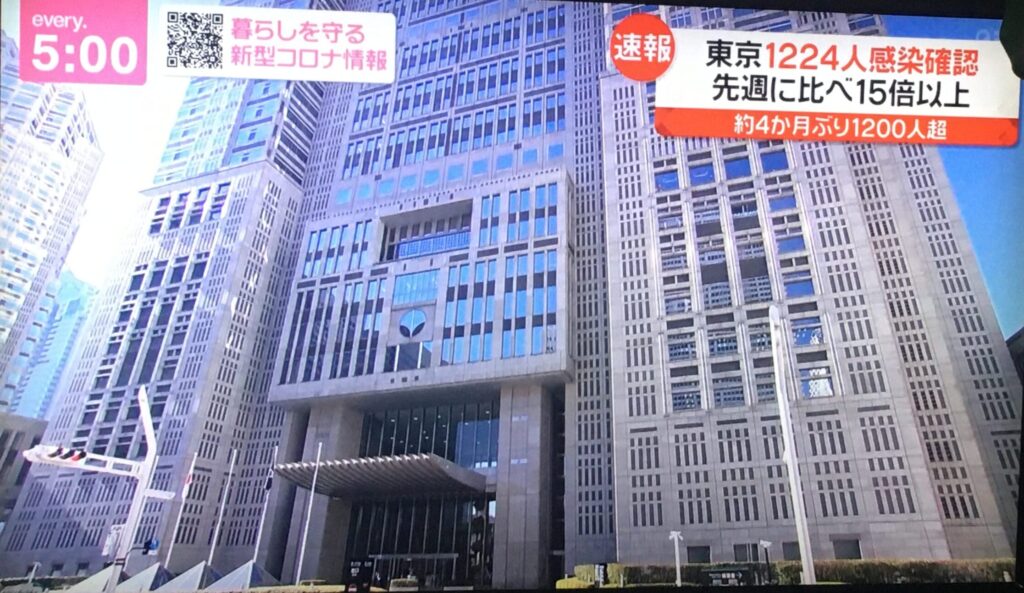 Tokyo Number of infected people January 2022
Around November 2021, the number of people increased every time the "declaration of a state of emergency" and "priority measures to prevent the spread of the disease" were lifted.
The new fiscal year has started in many companies, and I think there has been a sharp increase in the number of cases of people infecting themselves from people at work and then infecting their family members because of the increased opportunities to interact with people in the office with those who had gone out for winter vacation.
In Okinawa Prefecture, a prefecture with a U.S. military base, the number of people infected with the Omicron strain has rapidly increased, and healthcare workers have also become infected, and many family members and staff members have become close contacts and are on leave.
A number of medical personnel have taken leave of absence due to the "critical" new corona.
What has changed since the corona epidemic?
Telework and telecommuting have become popular.
If it hadn't been for the outbreak of the new coronavirus,
telework" and "telecommuting" would not have become widespread in Japan so soon.
With the spread of telecommuting and other forms of work from home
People with disabilities who used to have a hard time commuting (especially those in wheelchairs)
People with injuries
People who have been struggling with human relations in the workplace
People who are raising children or caring for family members
I thought it would be very effective for people who are raising children or caring for the elderly.
Before the Corona epidemic, I had the impression that telecommuting was only possible for people of child-rearing age or those who were originally in the IT field and had a blessed environment where they could work at home with a computer without having to interact with other people.
If telecommuting could be made equally available to the generation that is not raising children, the rhythm of life would be adjusted, productivity in Japan would increase, and many people would be happier.
Since they are not tired, they can enjoy going out with various people, and if we can accelerate the meeting of people who have something in common, especially among unmarried people, we can prevent the birthrate from declining in Japan. It may also prevent the corona pandemic.
[Advantages of telecommuting]
1. You can concentrate more on your work.
(The earlier you finish, the shorter your working hours will be)
2. You can work when you want.
3. No more getting ready early in the morning or long commutes.
4. You can easily take a break when you are tired, so you can adjust your daily rhythm.
Online medical care and telephone reexamination are becoming popular in hospitals.
Before the corona epidemic, "online medical care" and "telephone reexamination" were not so popular, but they are still popular in some hospitals.
[Advantages of online medical care and telephone reexamination]
1. You don't get other people's diseases in the waiting room of the hospital.
2. No waiting time at the reception desk or accounting.
3. Patients can receive their medicines from the hospital with peace of mind.
Patients can receive their medicines at ease from the hospital.
(*Note: For out-of-hospital prescriptions, prescriptions are delivered to your home)
4. No need to go to the hospital
⇒No need to use paid holidays
How to end the corona epidemic quickly
Daily countermeasures against infectious diseases are important
In 2020, many people in Japan wore masks earlier than in Western countries because of the custom of wearing masks during the annual "hay fever" season.
Many Japanese people wear masks and wash their hands when they go out because they are highly conscious about infectious diseases.
I am very thankful that there are not as many infectious explosions and serious illnesses as in other countries due to this awareness. I wonder when we will be able to live without masks.
To keep up with the changing times
Thanks to the corona epidemic, but also thanks to new IT technologies, "online medical care," "telework," and "telecommuting" have gradually become popular.
Each and every one of us should continue to take measures against infection, such as wearing masks, washing hands, and avoiding crowded places as much as possible, in order to protect ourselves and our loved ones around us.
What Japan needs to do now
I believe that Japan needs to quickly convey appropriate information to as many people as possible, and move the entire country to change its laws and systems, so that everyone can live in a happy world.
We need young people who can turn the conventional wisdom upside down.
The spread of telecommuting, a type of work that allows any person to work from home.
A three-day workweek and shorter working hours per day
How can we proactively promote such things as "horizontal connections and encounters with sympathetic people across industries in the workplace"?
It is important to proactively communicate action plans on how to achieve these goals.
I think it is important to send out action plans.
Corona disaster accelerates birthrate decline
After a long period of declining birthrates, the number of marriages and births has decreased since FY2020 due to the spread of the new coronavirus infection.
In Japan today, there is a lot of emphasis on distributing benefits to the child-rearing generation and creating an environment for childbirth and child rearing, or on addressing the so-called childbearing behavior of married couples, and since there are no significant measures to address the change in marriage behavior, this has not led to a real solution to the "declining birthrate.
If the number of people who can have a child has not changed, we must quickly realize that it is not enough to provide telecommuting incentives and benefits to the child-rearing generation, and rapidly introduce education in schools and social settings to help as many people as possible meet and understand each other.
People who have lost few opportunities to meet people, whether they are suffering from coronary heart disease or not.
People who have trouble talking to others.
⇒People who have trouble talking to others.
People who are struggling with money
⇒Provide financial support.
People who are too tired from work and cannot go anywhere.
⇒Abolish long working hours and introduce a three-day work week.
and other people who are suffering from various factors, we need to implement measures that will benefit more people by adapting laws and systems to the times.
Conclusion
The Corona disaster has made it difficult for people to meet each other due to the effects of telework and refraining from unnecessary outings.
Japan's population problem is not so much a declining birth rate as it is a declining number of mothers, which is increasing to unmarried people as many people are losing the opportunity to meet.
I think the Corona disaster has made us realize that we need to create an environment where any person can telework or work from home (and have time to rest).
Previous article

Next Article