The Future of Telework and Online Practice on a Snowy Day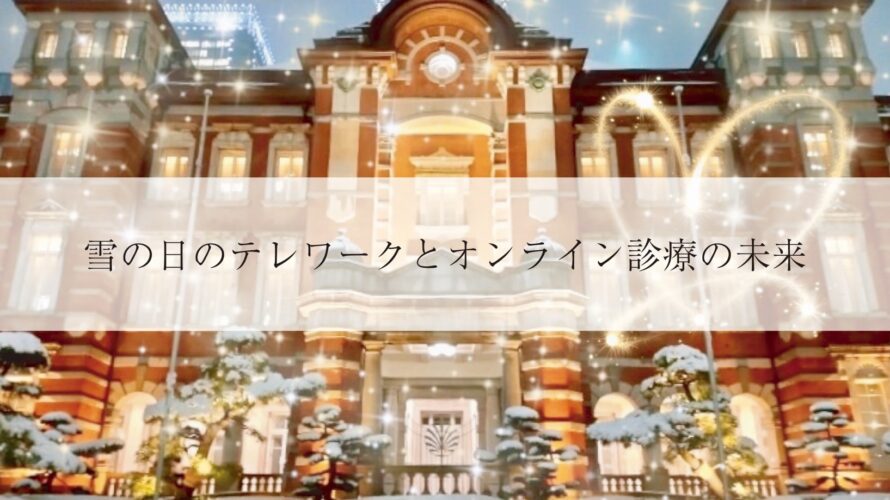 Snow, Snow, ⛄
In the first week of this year, snowy scenery was seen in Kanto area.
How did you spend your snowy days?
People with disabilities, especially those with physical disabilities or in wheelchairs, find it difficult to move around. If you have a hearing impairment, it may be difficult to get information on abnormalities.
I happened to be teleworking that day, so I did not have to go out.
However, if you are working in a workplace that does not have a telework environment or in a department where you cannot take it freely without the approval of the company or your superiors, you may not be able to be flexible…
It's nonsense to bother taking annual leave when you can work with a PC.
In my opinion, a company that has a work environment that is flexible according to the situation so that even one handicapped person can work easily is a workplace where you can really work vigorously.
In this article, I would like to talk about snow days and the ideal society, taking into account "diversification of work styles".
First snowfall in 2022
Snowfall exceeds 5 cm even in Kanto region
January 6th of this year. The first snowfall was also observed in Kanto.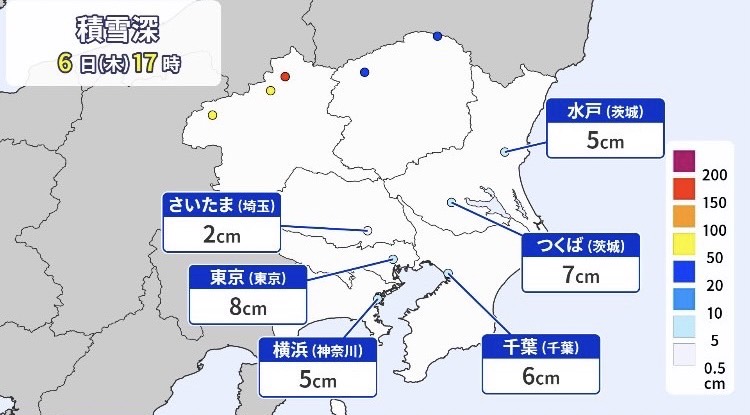 At first, it was reported that even if it fell, it would not be enough to accumulate.
However, in reality, we were hit with a record snowfall.
It was a heavy snowfall warning level.
Slippery and Dangerous Road Surface
After it snows, you have to be very careful about frozen road surfaces.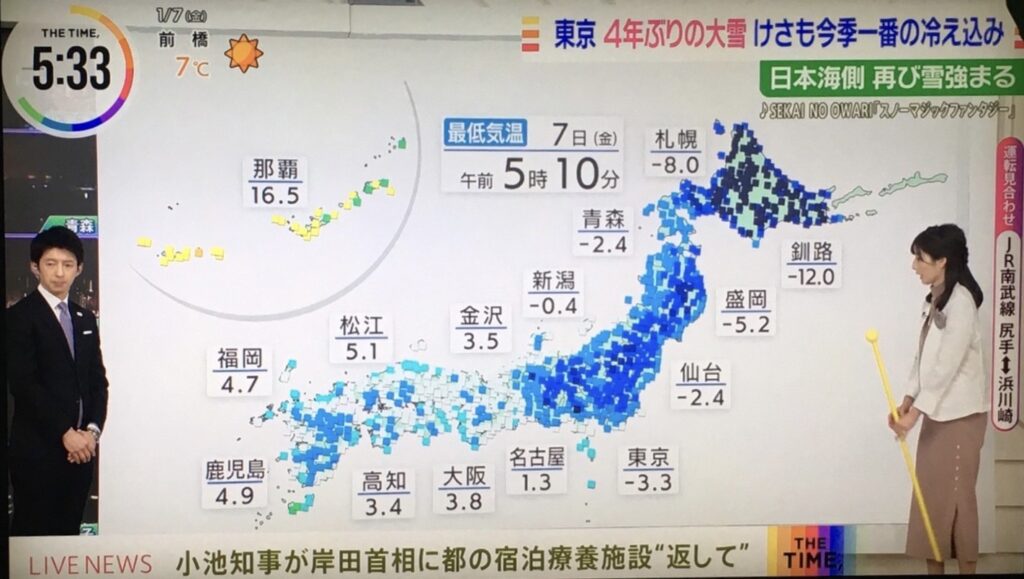 Even just walking on snow can make you lose your balance easily.
In a wheelchair, even small bumps, steps, or gravel can bury your tires, causing you to get stuck and unable to move.
In icy, bumpy, frozen, or sherbet conditions after the snow has melted, it is easy to slip and easily cause injuries and accidents.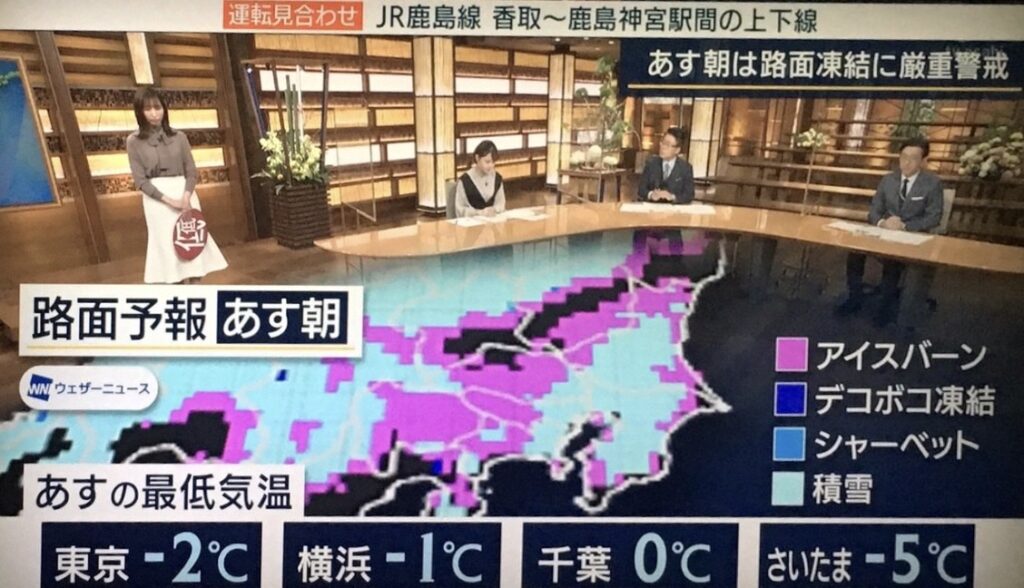 It is quite possible that transportation systems in various areas will have to stop or be delayed due to the heavy snowfall.
Roads and transportation networks may be greatly disrupted.
In other words, if you have nothing to do on a snowy day, it is best to avoid going out as much as possible.
This applies not only to snow days, but also to abnormal situations such as heavy rain, typhoons, and earthquakes.
To avoid being influenced by the external environment, always check the weather, and even then, be prepared to take the right actions and measures as soon as an unexpected event occurs.
It is important to take all possible precautions in case of emergencies such as disaster actions, emergency supplies, evacuation routes and evacuation sites.
Beautiful crystals
When it snows, snow crystals are a must-see.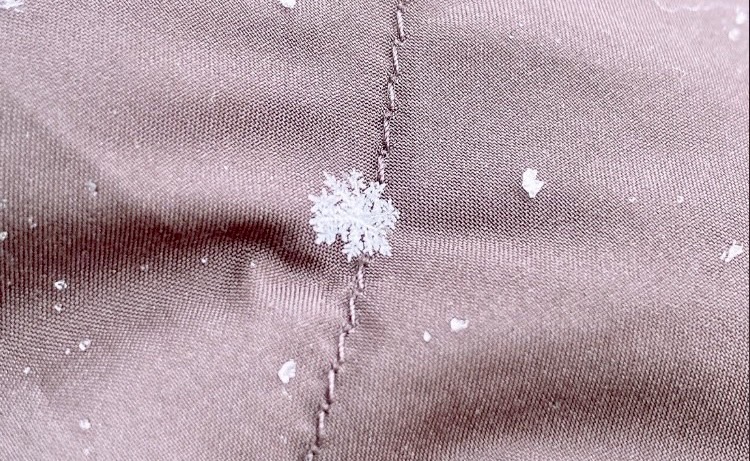 I was able to see them with the naked eye and also with my smartphone.
Looking on the Internet, it seems that snowflakes come in many different shapes.
If you search for #KantoSnowCrystals on Twitter, you will get many hits.
Maybe it's a good idea to open the window and take a peek at the snowy scenery outside for a change… ⛄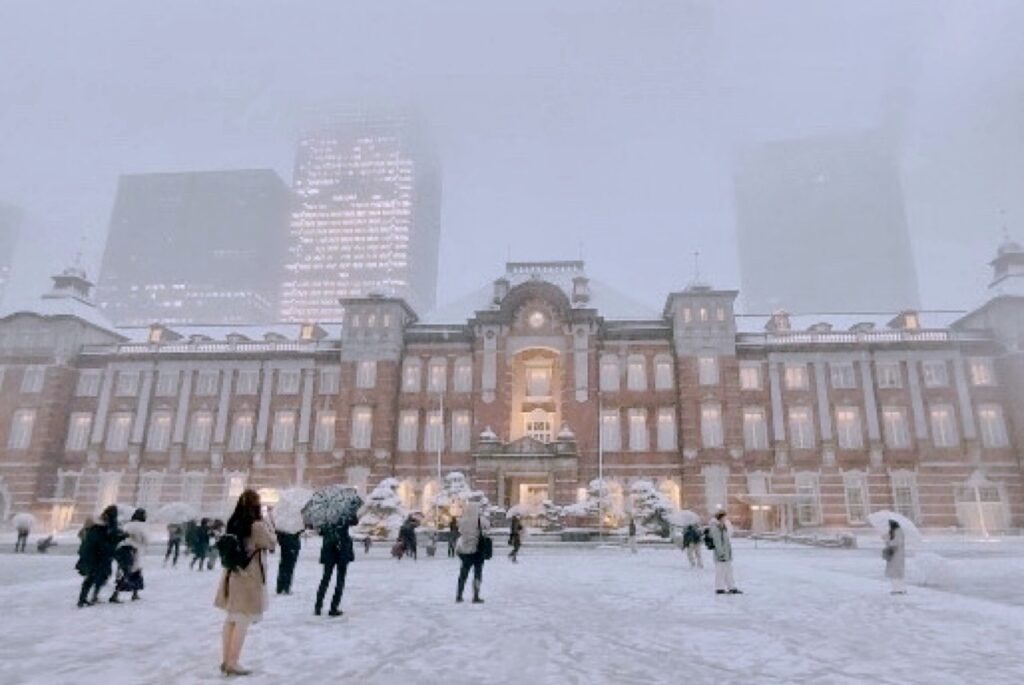 It's rare to see Tokyo Station all white!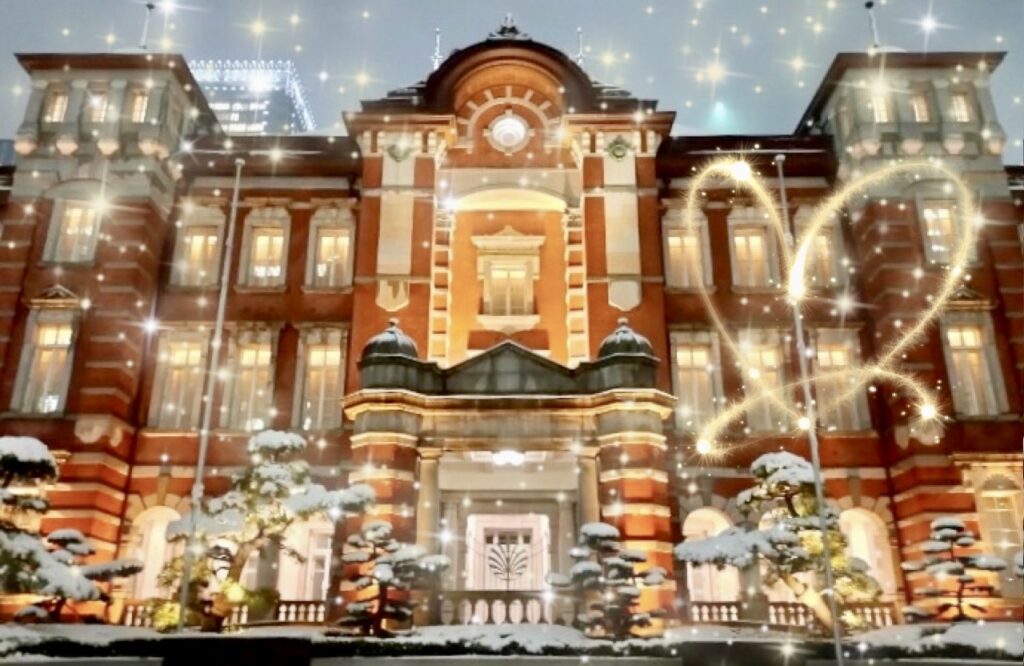 The snow-covered light-up version of Tokyo Station is also beautiful✨.
Cold wave is coming again
From the night of the 25th to the morning of the 26th, snow was predicted to fall on the Pacific side due to the south coast low pressure system. However, in Chiba, it rained but did not snow.
According to the Weather News forecast for the next week, there is a possibility of rain and snow in the Kanto area through Monday, the 31st. Let's hope it won't be so heavy that it will affect the traffic.
South Coast Low: A low pressure system moving off the coast south of Honshu.
Snow may fall on the Pacific side, including Tokyo.
When it turns from rain to snow, please be aware of the impact on traffic, snowfall and accumulation.
When it turns from rain to snow, we need to be vigilant about the impact on traffic, snowfall, and snow accumulation.
The more prepared you are, the better.
For the latest weather information, please refer to the following links
For the further promotion of telework
Active use of online services
The number of people infected with the disease settled down to single digits around last winter, but the "Priority Measures to Prevent the Spread of the Disease" came into effect again in January.
Cabinet Secretariat: New Coronaviruses, etc.
It was the end and beginning of the year when the Omicron strain started to spread, and during that time, many people returned to their parents' homes after a long absence.
In the workplace, we started using online tools in earnest in March of the year before last when the corona epidemic broke out, but at that time, we were still in a state of limbo and not many departments were familiar with them. These tools are now indispensable in our daily work.
With the spread of these tools, many things that used to be done face-to-face (meetings, trainings, lectures, classes, small conversations, chats, etc.) are now being switched to online. After all, this can only be called "the benefit of Corona".
I really wish that all of my schooling would have been online since I was in college, or even earlier.
In addition, materials that used to be stored on paper are now electronic, and information can be shared more smoothly. It has also reduced the amount of printing, which has led to cost reduction. I am reminded of how much waste there was in the stamp culture.
Is it really necessary to come to the office to do this? Is there a reason to do it that way? Isn't it actually more efficient to consider other methods? We repeatedly ask "Why?" to find out the root problem, and then think of the best solution, devise it, and put it into practice.
In the case of medical treatment,
it is a repetition of the following process:
examination (analysis of the current situation) →
analysis of the cause of the disease (problem) →
determination of whether it can be cured →
consideration of multiple treatment methods (measures to solve the problem) →
finding the best solution and implementing it.
I believe that by successfully running this cycle, you will be able to develop innovative ideas.
At home, we now live in an age where we can do things that were not commonplace before, such as sharing screens on the spot, remote control, and making calls with subtitles.
I realized that the world has changed dramatically with the visible progress of IT technology.
Change your mindset.
In order to respond flexibly to these changes, it is best to be able to act from the perspective of protecting "important people" according to the social situation, rather than judging that we cannot do something because it is a rule set by the system.
I feel that an organization and culture that encourages telework, online support, and the ability to proactively challenge things that have not yet been done will be valued.
I feel that an organization and culture that encourages people to take on challenges that they have never tried before is valued.
Even if you want to telecommute, you can't do it or make it popular if there are some restrictions that make it difficult for you to apply.
I often ask people who are telecommuting if they are skipping work? Have you been going somewhere? Do you enjoy teleworking?
What have you been doing? What kind of clothes do they wear? There are some managers and supervisors who are amused by such questions and worry that they cannot increase the number of teleworkers unless they report their results. I think the same can be said for anyone.
There are people who often work overtime, but I never ask them what they were doing. I don't think it's a good idea to interfere too much or monitor too much. I wonder about asking others what they were doing when they teleworked, without telling me what they were doing themselves.
If you are sitting at work, can you really be considered to be working? What if you just came to the office to talk with other people about trivial things?
I don't think it's any better than doing research at home, sharing knowledge, and teaching. In fact, I think it can be useful for generating ideas later on.
I think the appeal of teleworking is that it allows you to quietly accumulate new knowledge at home and acquire skills that you can use at work, and it also gives you time to concentrate without being disturbed by others.
In a sense, telework is also a great benefit in that it keeps you psychologically safe and allows you to exert yourself to the fullest.
People with disabilities are often physically more demanding than normal people, and since I work at a desk, I often spend a lot of time staring at a computer screen.
I also have a bone disease, so to be honest, staying in the same position all the time is also tiring.
As a result, I suffer from eyestrain, which causes fatigue not only in my eyes but also in my entire body, including stiff shoulders and headaches.
If you are teleworking, you can take a break and lie down in bed whenever you feel sick, but in the workplace, you cannot take a break even if you want to.
Just like people who leave their seats to smoke, put on make-up, or use the restroom, I think that if I can take even a short break, my strength will recover even if only a little, but in a workplace where I cannot take a short break or relax, it is hard to get rid of fatigue.
From this perspective, I would like to see people with disabilities be able to telework freely. A workplace where such considerations can be made is easy for everyone to work in, fatigue is reduced, and people of all kinds can play an active role, resulting in a win-win situation for all employees.
In the future, I believe that a work style that allows multiple options will become the multi-standard.
In any case, I think it is important to keep examining how to utilize the Web and digital technology, and to seek the best solution by implementing the PDCA cycle.
From the matter at hand, I will summarize my concerns about the "medical field," which is making remarkable progress, in particular.
Medical DX
Online Medical Care
Due in part to the new coronavirus, "telephone reexamination" is now being implemented at many hospitals.
This is a very convenient and helpful system that eliminates the hassle of going out, waiting, and having to take time off just to see a doctor.
Except for the days when I receive prescriptions for medications other than tests for specialized diseases, I have started to actively use "online medical care" to avoid contact with people and going out as much as possible in order to reduce the risk of infection.
Online medical care is a system in which a doctor examines a patient through the screen of a communication device such as a computer or smartphone. When online medical care was first launched, it was only allowed to be used in remote areas and areas with few doctors.

Later, due to the convenience of online medical care, the Ministry of Health, Labor and Welfare (MHLW) notified the lifting of the nationwide ban on online medical care in 2015. And in 2018, the rules for online medical care were clarified, and online medical care began to spread nationwide.
Comparing four major companies on online medical systems
Knowing the Realities of the Medical Field
Around early January, it's a "call back" day at the hospital.
The fever outpatient clinic was full (probably Omicron strains) and the doctors looked incredibly busy.
I called at 9:00 a.m. and received a call back just after 1:00 p.m.
Moreover, the caller hung up immediately, and from the atmosphere, it seemed like there were many infected people and it was bad…
The number of infected people has exploded and now exceeds 10,000 in Tokyo alone, and there is no stopping it.
There is no end to the number of people receiving treatment at home and those in close contact with others.
Once again, in order to protect yourself and your loved ones, please check the official website of the Ministry of Health, Labor and Welfare for knowledge about coronas.
Q&A on new coronaviruses (for the general public) – Ministry of Health, Labor and Welfare
Online medical treatment system, a hot topic in the prevention of corona infection
An application that completes everything from online medical treatment to medication guidance and home delivery of prescription drugs has also been created.
An online medical platform that connects hospitals, pharmacies, and patients
What is "SOKUYAKU"?
SOKUYAKU, provided by J-Frontier Co., Ltd., is an online medical treatment, medication guidance, and prescription drug delivery service that enables patients to receive online medical treatment, medication guidance, and receive their medications as quickly as possible on the same day from the comfort of their homes or offices using their smartphones. For patients, the service provides the necessary functions for online medical treatment and online medication guidance, such as the registration of their family doctor and pharmacy, the function of a medication handbook, and a visit appointment function that allows patients to receive their prescription medication without waiting. The system can be easily introduced without any additional capital investment.
The hospital I go to does not support SOKUYAKU, but does support curon.
Online medical service "curon" (for general public and patients)
What is "online medical service, curon"?
CURON is an online medical service that connects family doctors and patients.
Online medical care is a method of medical care in which a patient can make an appointment at a hospital (clinic), make a medical interview, receive a prescription or medication, and make payment over the Internet by connecting from a smartphone or PC.
In principle, initial consultations are conducted face-to-face.
* As a general rule, a face-to-face consultation is required for the first visit.
Please consult with your doctor about the availability of online medical services.
DX (Digital Transformation) in the pharmaceutical field is accelerating everywhere in Japan. There are various other apps and services that allow online medical treatment, but some hospitals have introduced them and some have not. Also, the apps that are available vary depending on the hospital's partners.
Furthermore, the number of departments that can be supported online is also limited.
I didn't use curon because the hospital I go to continues to use its own method of medical care, which is telephone consultation.
Incidentally, the hospital has its own conditions for those who are eligible for telephone reexamination.
For example, a patient must be a regular patient of the hospital and the doctor in charge must judge that there is no obstacle to the telephone consultation.
For more details, be sure to check the hospital's website.
P.S. The drawback is that there are additional fees for using the online medical system and delivery charges. I hope that someday, I will be able to get my prescriptions and medicines delivered to my home without having to pay for them.
Apple Watch Outpatient Clinic
Recently, many multifunctional watches have started to appear on the market.
By connecting with your smartphone via Bluetooth, you can receive notifications of emails and lines, play music, measure your steps, make electronic payments, make calls, as well as add more and more functions to the healthcare field.
A new service called "Apple Watch Outpatient Clinic," where you can consult a specialist online, has also started to spread.
I don't have an Apple Watch, so I thought I'd give it a try when I do!
The first step to popularizing the online doctor of the future!
Summary
The snow day situation, the benefits of telework, the current Corona situation, the use of online in the workplace and medical field… it's easier to be a party to these events when they happen close to you!
The days are still cold.
There are still many cold days ahead, so please take all possible precautions against the cold and stay at home.
I hope this article will give you some tips on how to make working easier for as many people as possible. I hope this article will give you some tips to make your work easier.
Previous article

Next Article